Absolute eye shadows from Catrice Cosmetics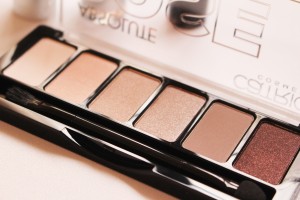 Eye shadow palettes are extremely practical and, obviously, conctitue the obligatory element of any women's purse accessory. Catrice Cosmetics brand knows this rule, and as a consequence, has created Absolute Rose – eye shadows palette full of rose colours.
New eye shadow palette Absolute Rose, Frankie Rose To Hollywood, contains the following six eye shadows: bright, highlighting rose, bright pink, dark pink, purple, dark lily and violet shade. The palette is accompanied with a double applicator, ended from the one side with a make-up sponge, and from the other with a make-up brush. In general, the eye shadows are closed in a small, since it fits a palm of a hand, box. What also is considered as an advantage of the product, the eye shadows are well-pigmented and has sheer texture. These do not disintegrate and are effortless to be collected by the applicator. Basically, thanks to Absolure Rose, you can create light, delicate make-up or classic smoky eye effect.
Naturally, Absolute Rose palette has become a part of other Catrice Cosmetic eye shadows sets. Before that, this cosmetic brand had produced Absolute Bright palette (Candy Warhol,) Absolute Matt (Eyes Wide Matt,) and Absolute Nude (All Nude.) Generally speaking, Candy Warhol palette comprises of six pastel eye shadows. The colours are very bright and subtle. To demonstrate, the palette contains of a white shadow, a bright yellow shadow, a bright pink one, a delicate fuchsia, a bright purple shadow and a bright brown shadow. The next palette, Absolute Matt, enables to compose a natural-looking make up with matte finish. The eye shadows (white, bright pink and four variations of brown shadow) are of creamy-like consistency and have got delicate texture. The last palette, All Nude equals six iridescent eye shadows resembling skin colours.
Ceatrice Cosmetic eye shadows can be applied dry and wet. The second manner will do the job especially when you are to compose eye make-up with Candy Warhol palette. Definitely, water strengthens and makes the pastel shades more durable.