Heat Damage Protection for Blonde Hair. Ranking of the Best Heat Protection Sprays
Blonde hair needs to be treated a bit differently to remain shiny instead of turning yellowish. No matter if natural or color-treated, blonde hair tends to be dry and frizzy, especially when exposed to high temps. To keep it safe, it's advised to use heat protection before reaching for any hot styling tool. If you aren't sure what products suit blonde hair, go on reading because below you'll find all the best heat protectants ideal for fair hair.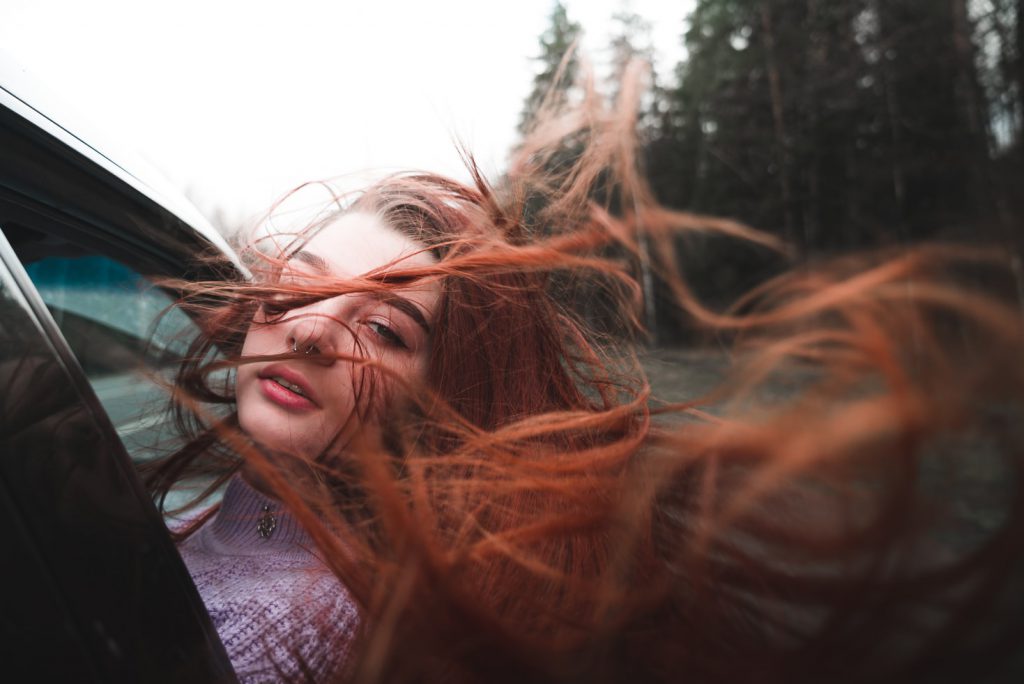 Without doubt, blonde hair is one of the most beautiful hair colors that will never go out of fashion. Many ladies bleach their strands in various shades of blonde: sunny blonde, cool blonde, sometimes even platinum blonde. Being thinner than dark hair, fair hair not only needs special treatments but also requires stronger heat damage protection. What products help blonde hair remain strong and what products make it weaker? To answer this question, you need to know something about the structure of blonde hair.
Why is bleached & naturally blonde hair more prone to damage?
Low melanin levels in hair is the only reason why it's light-colored. Having less of this body's natural pigment, the hair is thinner – thus weaker – than darker hair. Interestingly, however, blonde ladies have more hair than their dark-haired friends. As it's easy to guess, thinner hair is more susceptible to mechanical damage, meaning it gets weaker due to brushing, especially when the hair is wet. Moreover, blonde hair is less adapted to sudden temperature changes. This is why fair hair isn't good at enduring high temps that hot styling involves. It loses hydration quickly, becoming brittle and prone to breakage.
Heat damage protection for blonde hair
With all that has just been said, it becomes obvious that blonde hair needs to be exposed to deeply nourishing treatments, that's one thing. Another thing is that blonde hair must be provided with strong damage protection. Furthermore, fair hair needs to be regularly replenished with moisture. Otherwise it turns brittle awfully fast.
That's why choosing the right product that keeps blonde hair safe while heat styling is a must. And finding a spray that does more than just form a protective barrier would be the best thing to do. This means that if your hair is fair, you should get yourself a heat protection spray that is formulated with nutrients and moisturizing agents. Only in this way will your hair remain strong and healthy-looking, even if exposed to the heat generated by a blow dryer, flat iron and curling tongs.
Ranking of the best heat protection sprays for blonde hair
No 1: Nanoil Heat Protectant Spray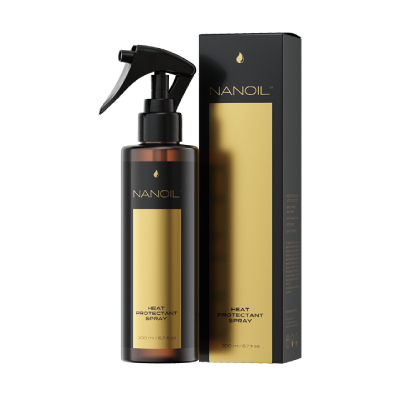 Blonde hair care should focus on damage protection and moisturizing. This is what Nanoil Heat Protectant Spray is designed to do. It has everything blonde hair requires to be beautiful, healthy-looking and sleek. Formulated with silk proteins and vitamin E, this spray isolates hair from the heat reaching up to 440 degrees Fahrenheit / 220 degrees Celsius, but that's not all. The protective coating is also good at controlling frizz, locking moisture inside and repairing damage. The formula isn't thick so it doesn't make the blonde hair look flat. Instead, it increases elasticity and shine, which results in instantly better-looking hairstyles. The application isn't problematic. Just wash the hair and use 3-4 sprays per application. Alternatively, you can use Nanoil Heat Protectant Spray to dry hair and use a flat iron or a curler.
Visit: nanoil.co.uk
No 2: Davines Heart of Glass Sheer Glaze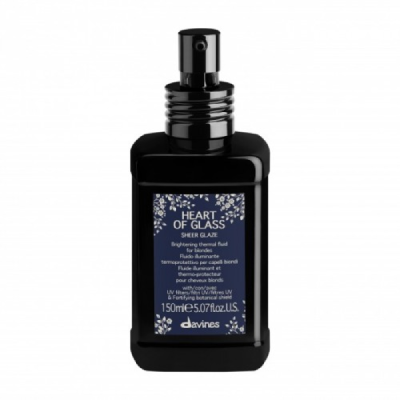 This 150-millilitre heat protection spray is designed for all blondes. Heart of Glass Sheer Glaze contains ingredients that isolate hair from high temperatures and UV. When coated with this product, blonde hair is no longer prone to frizz. In general, the strands become easy to style and control. When applied to just-washed hair, this heat protection spray boosts shine and prevents color fading. The silicone-free formula contains baobab extract that is a wonderful ingredient, able to improve the appearance of blonde hair. When used regularly, this natural-origin ingredient delivers nutrients and moisture. This in turn helps blonde strands become resistant to damage, both heat and mechanical. The only drawback is the high price.
No 3: Kérastase Blond Absolu Cicaextreme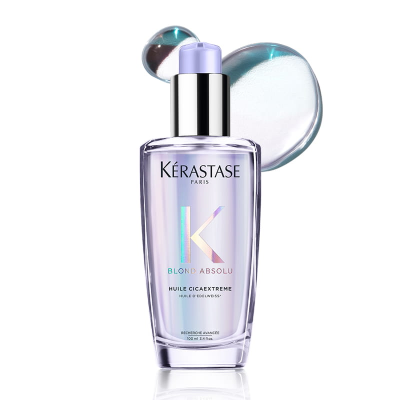 Here is another product dedicated for blondes – both natural and bleached. It nourishes, strengthens and protects the strands from the negative consequences of heat styling. Kérastase Blond Absolu Cicaextreme is lightweight, and therefore can be applied to damp and dry hair prior to blow drying and straightening. With this cosmetic strands get visibly smoother, shinier and more controlled. The heat protection is strong enough to keep hair safe in temperatures reaching even 450 degrees Fahrenheit / 230 degrees Celsius. The nice-smelling formula includes sunflower seed oil and edelweiss extract that moisturize the hair to reduce the problem of split ends. Be sure not to use too much product because this may deprive your blonde hair of volume.
No 4: Joico Blonde Life Brightening Veil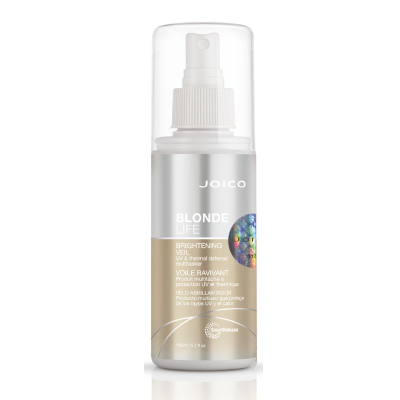 Joico Blonde Life Brightening Veil is marketed for being a true multi-tasker. It's able to protect blonde hair from high temperatures and heat damage that comes with hot styling. Additionally, this 150-millilitre product smooths hair out, ensuring easier styling, no tangles and frizz control. Thanks to the rich oil content, Joico Blonde Life Brightening Veil is able to add more body to blonde hair, preventing it from splitting. Tamanu oil and monoi oils that this heat protection spray is formulated with are responsible for increasing moisture levels in strands, which again minimizes the risk of brittleness and stops hair from thinning. Even though you may find it hard to get Joico Blonde Life Brightening Veil in regular shops, it's worth every penny.
No 5: OWay Thermal Stress Protector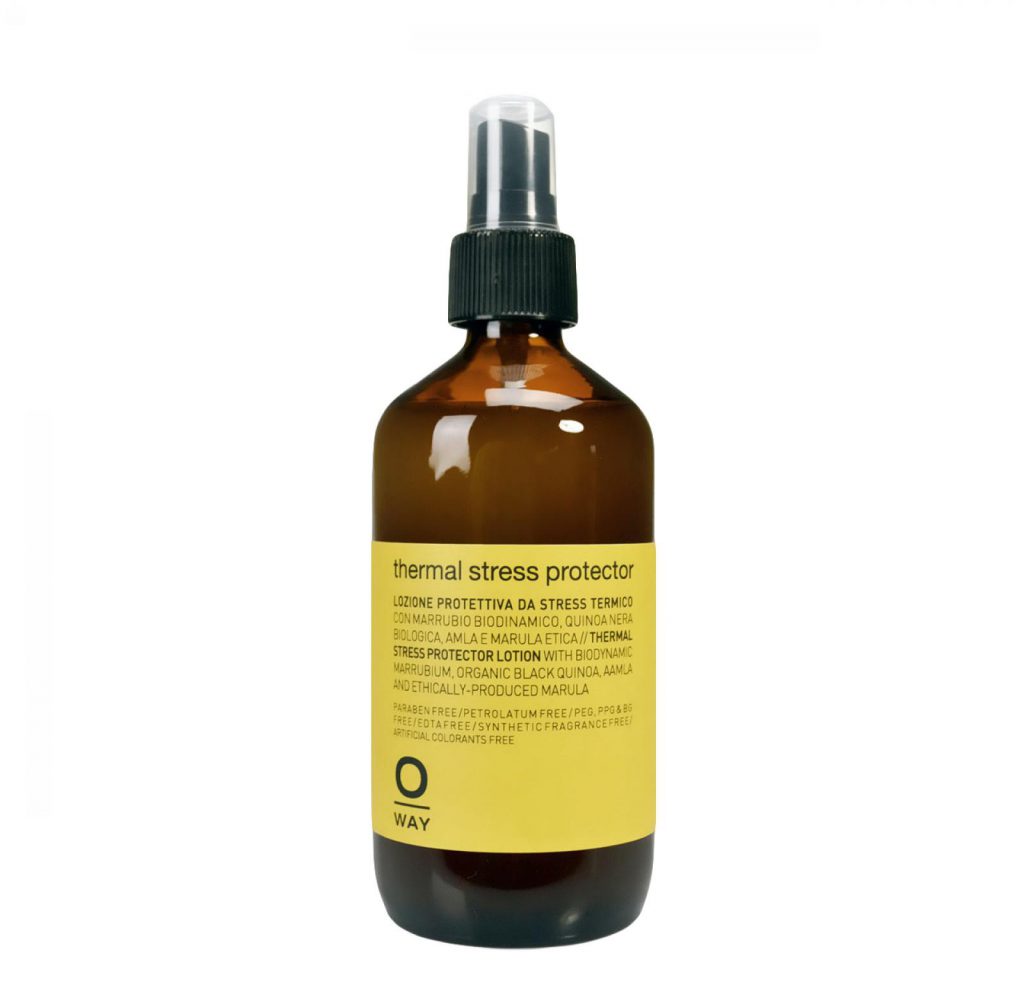 This 240-millilitre spray protects blonde hair from the heat damage caused by all types of hot styling tools. Formulated with biodynamic shantha extract, organic quinoa, marula oil and shea butter, OWay Thermal Stress Protector is a really potent heat protection spray. When used regularly, it replenishes strands with moisture, repairs damage, makes hair stronger and easier to style. Additionally, this spray is able to keep hairstyles in place for the entire day, making you feel gorgeous from the early morning to late evening. It's also worth noting that OWay Thermal Stress Protector leaves hair shinier and minimizes the risk of splitting. Even though this isn't the cheapest heat protection spray for blonde hair, it's one of the best-selling products of this kind.