Herbal distillates and facial waters – A breakthrough in face tonifying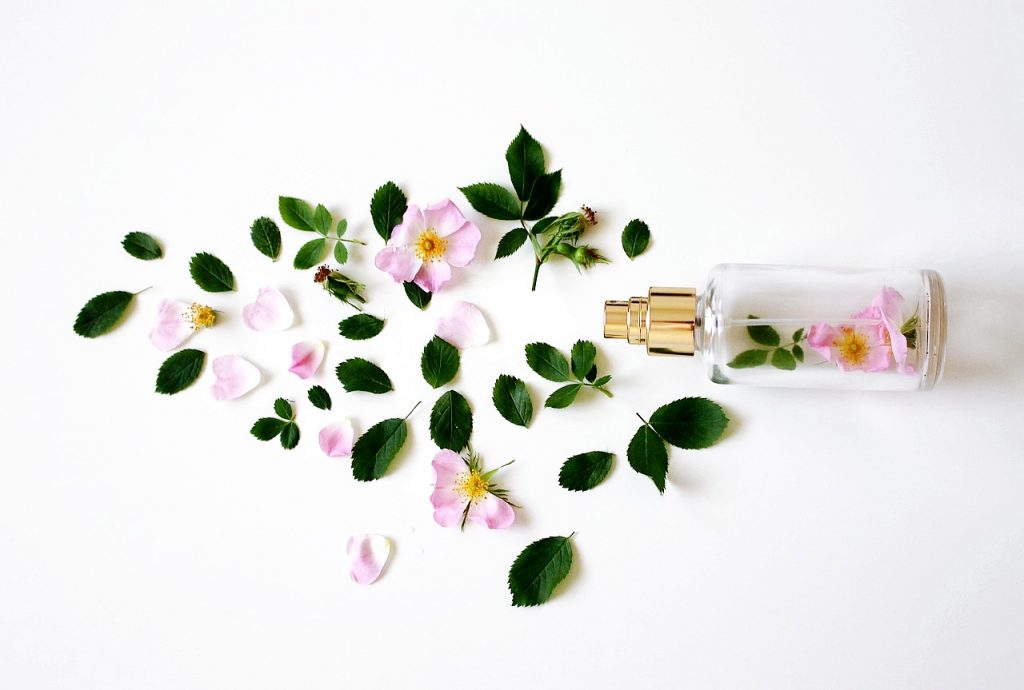 Face toner is slowly sinking into oblivion and disappearing from our bathroom shelves. Cosmetologists, however, are doing their best to prevent this from happening. Therefore, many cosmetic brands starts creating herbal distillates – which is a breakthrough in face tonifying. Such products are completely natural and based on the highest quality plant extracts. Owing to the effectiveness, their popularity is continously growing. Do you want to know what are the benefits of using herbal distillates and which one you should choose to take care of your skin? Find out why herbal distillates are favorite cosmetics of cosmetologists, bloggers and makeup artists.
What are herbal distillates?
Other names for herbal distillates are floral waters or herbal waters. Humorously and figuratively herbal distillate can be called 'liquid flower.' It comes into existence due the process of fresh plants distillation (water steam). It contains precious water-soluble vegetable substances and trace amounts of essential oil. When it comes to the effects and to put it in the simplest way possible, herbal distillate is a natural alternative to a facial toner – skin tonifying is its task. And this is what makes herbal distillate an amazing alternative to regular, drugstore face toners.
Herbal distillates are universal and exhibit surprising skin conditioning properties. They're gentler than essential oils and their pH level is similar to human skin's pH. Beautifying properties of herbal distillate are the same as the plant they are made of. The most popular herbal distillates are rose distillate, lavender distillate, citrus distillate, witch hazel distillate and… vanilla distillate. Surely, you will find many other herbal distillates, frequently very exotic ones.
Types of herbal distillates – Choose the one for you!
Rosa Damascena Flower Water
One of the world's most popular herbal distillate. Suitable for all skin types including mature, dry and couperose. It displays soothing and antiseptic properties. Moreover, it works antiseptic, regenerates and strengthens. Also, rosa damascena flower water makes skin elastic and lifted. It's recommended to help heal small skin cuts and scalds as well as used in the form of eye dressings to fight back fatigue. It improves the general condition of skin, smooths it, mattifies, cleanses and nourishes.
Hamamelis Virginiana (Witch Hazel) Water
This distillate exhibits strong anti-inflammatory and antibacterial properties. It's recognized as a potent antioxidant, perfect for treating mature skin due to its ability to neutralize free radicals. It works as an astringent and regulates sebum production. It facilitates and accelerates skin healing processes (e.g. after long sun exposure). It seals and strengthens blood vessel walls which makes hamamelis virginiana (witch hazel) Water a potent agent to heal couperose skin type.
Citrus Aurantium (Neroli) Flower Water
Relief for acne rosacea and combination skin types – it regenerates, constricts body tissues as well as soothes and combats inflammations. When it comes to acne-prone skin type, when treated with Neroli flower water the skin brings relief to irritations and reduces redness. It shrinks skin pores and perfectly regulates sebum production. It moisturizes, mattifies and freshens up skin. It's worth realizing that citrus floral water is good at slowing down activity of the enzymes which are responsible for breaking down collagen and elastin – proteins maintaining skin firmness and suppleness. In other words – Neroli delays aging processes.
Lavandula Angustifolia (Lavender) Flower Water
Owing to its pH exceptionally close to human's pH, lavender flower water is recommended to treat all skin types. It soothes, relieves, combats free radicals and regenerates. This herbal distillate displays bacteriostatic, healing and constricting properties. Finally, it aids in regenerating epidermis and reducing swellings.
Vanilla Plantifolia Water
Vanilla is a source of catechins, which are polyphenols of antioxidative, soothing and anti-inflammatory properties. Moreover, vanilla herbal water also displays therapeutic properties which means that it relaxes, soothes and works like a aphrodisiac for skin. Its aroma improves mood. Apart from this pleasant aroma, vanilla slows down aging processes, soothes irritation and replenishes skin with water. Vanilla distillate alleviates inflammations also the ones which affect scalp. It's suitable for all skin types, including acne-prone and irritated by the sun.