How to pack your suitcase effectively? 5 tricks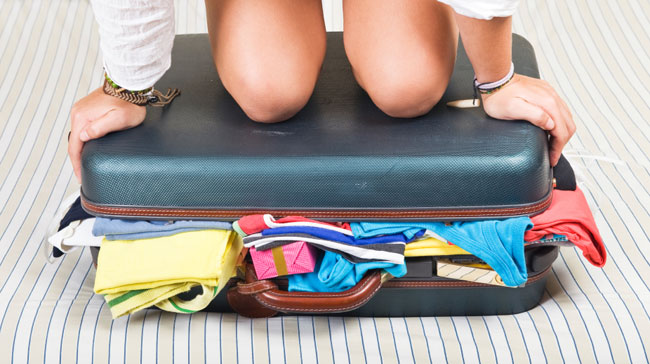 Packing is an art mastered by just a few. It happened that even those who travel several times per year have problems with this seemingly easy task. Sometimes it might appear to be almost impossible to pack souvenirs since your bag happens to feature no more room. Luckily, we're going to reveal how to pack your luggage and avoid this lack-of-free-space problem.
1. Clothes – do this the military way
Instead of folding your clothes into cube-like shapes, try to roll them up. Thanks to this technique your wear will occupy significantly less space and it will be easier for them to adjust to the shape of the bag. An additional plus to mention is that the rolled up clothes don't get wrinkled. Once you unpack the suitcase, all you need to do is unroll them and put on a hanger (no ironing required).
2. Tripartite division in your luggage
While packing, follow the Rule of 3, which is 3 pairs of trousers, 3 T-shirts and 3 long sleeves… etc. This is the rule of every traveller: 1 pair of trousers is drying out, 1 pair is on you, 1 is always clean. Practical and safe.
3. Shoes that get you anywhere
Naturally, it all depends on the destination you want to reach. It's obvious that a mountain trip requires different type of footwear than a seaside trip or sightseeing. In general, always have some comfortable pair of sport shoes and one which is more smart. You never know when you will have the opportunity to go for an unexpected yet more serious event.
4. Coconut oil – a multi-purpose trip fellow
It's not a joke, coconut oil is a numero uno product to be packed when setting out for any possible kind of trip. This natural substance takes care of skin, it prevents dehydration, soothes irritations, conditions hair, feet and hands, it can be consumed, used for removing make-up. Moreover, coconut oil can be suitable for shaving and hair removal as well. Another important thing to point out, coconut oil is perfect for treating feet that are doomed to stay in heavy boots long hours. All things considered, coconut oil replaces a few cosmetics in one – it's a real saving of space in an already full bag.
5. Tiny phials and boxes
Don't put into your bag the huge packaging of cosmetics. Place your foundation, under eye cream and face cream into smaller containers (even clean contact lens cases are ok). When it comes to more liquid products, pour them into smaller phials. Indeed, thanks to this, you will save much space, and what is even more important, on your way back home, you can use this free space to fill it up with souvenirs your family and friends are looking forward to receiving.