Indian hair rinse with brahmi oil.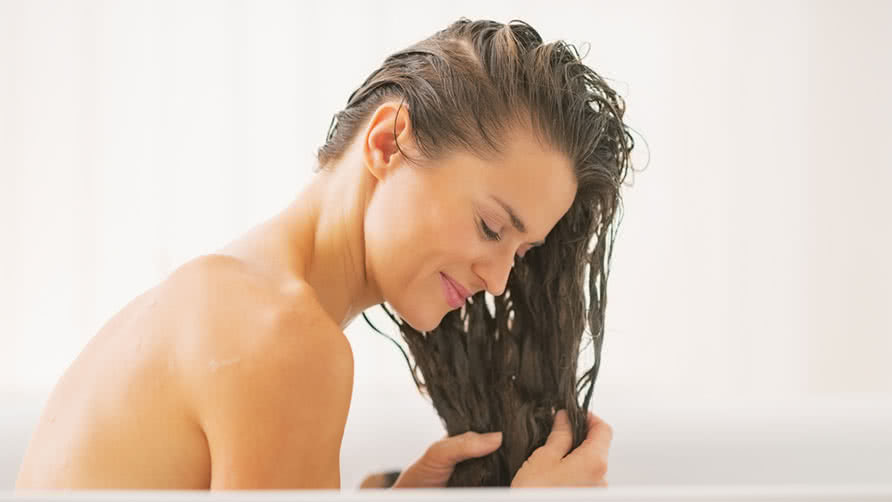 There are many reasons to the belief that the best product is one that you will prepare in the comfort of your own home. When creating products like that we usually reach for organic, untainted and safe ingredients, known for their beneficial properties. The perfect ingredient of hair masks and all sorts of hair rinse are natural herbs and oils, which because of the content of essential fatty acids, vitamins and minerals in a quick way improve condition of hair and scalp. Home made cosmetics became very popular recently. They fit just right in a slow life philosophy, which calls to moderate consumerism, life in harmony with yourself and your needs as well as listening to your body and following the voice of reason.
Below hair rinse is a great proposition for all women who care about beautiful hair and healthy scalp. Its base is oil obtained from Indian brahmi herb – for ages valued in Ayurveda and considered to be sacred. Furthermore, in combination with other Indian herbs, hair rinse gains an exceptional conditioning power.
Ingredients necessary for hair rinse:
Brahmi oil.
Hot, but not boiling hot water.
Dried herb Amla.
Dried herb Bhringraj (Eclipta Alba).
Organic Nettle tea.
Organic Chamomile tea.
How to prepare hair rinse?
Pour hot, but not boiling hot water on all the herbs. Just 2-3 tea spoons of each herb is enough for the amount of 125 ml/4.2 oz of hot water. Remember! Each herb needs to be brewed separately. It means that you need 4 glasses – each with different herb, which has to be poured with water to the half of their volume. Herbs must brew under cover for about 15 minutes. After this time it has to be drained, poured into the bowl and cooled down to more comfortable temperature. Hair rinse does not necessarily has to be cold, but it is best if it wouldn't burn the skin. To slightly cooled down hair rinse add about 5 ml of brahmi oil.
Now, you just have to bend over the bowl and dip hair in the brew so that the hair absorb as much of the rinse as possible. Do not forget about scalp, where you have to massage the mix.
The treatment does not have to take long. When you feel like hair absorbed enough of the product, just keep it on hair for at least an hour. It is best to wrap head with a towel and play an episode of your favourite TV show or a film. After this time just wash the hair with delicate shampoo.
Hair rinse will strengthen hair condition, provide the hair with elasticity and resilience, protects against harmful influence of external factors, ensure gloss, make combing easier and provide hair with right level of hydration.
Natural care not only work wonders to the beauty. It allows us to gain self-confidence and makes that we – not the cosmetic company – decide on our life and consciously choose ways of body, skin and hair care. By making the cosmetic yourself we are aware that no substance is there by accident.