Reasons to love rose-infused beauty products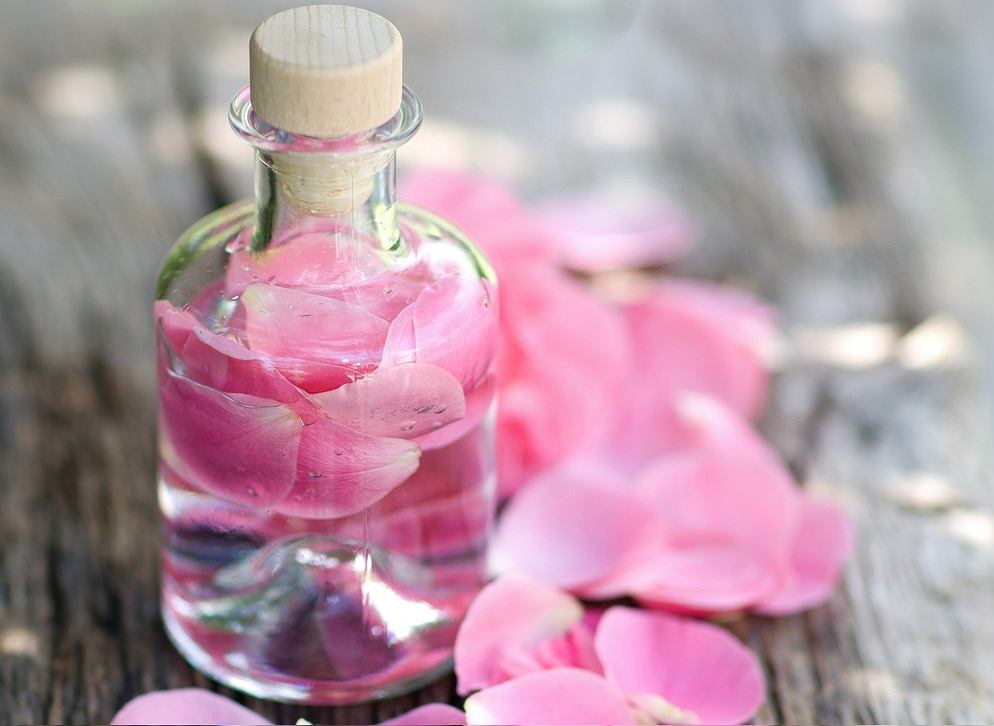 Did you know that rose-infused beauty products were used in antiquity? Rose water was perceived as one of the most expensive cosmetics of that times. Its beautifying and protecting properties were considered as panacea for eternal youth.
Today the queen of flowers serves all of us, not only the members of royal families. You too can feel its marvelous beautifying properties. Learn how much you can gain thanks to rose flowers.
What are the benefits of rose-infused beauty products?
Undoubtedly, rose oil is constantly one of the world's costliest essential oils. Its extraction process isn't deprived of romanticism because this oil has its origins in The Rose Valley, Bulgaria, which is considered as one of the most beautiful places on Earth. Petals of Damask rose are recognized for their outstanding beautifying qualities. This strain of rose displays the strongest appearance improving properties.
Rose extracts have a wide application in beauty industry and are also used for medicinal purposes. For example, Damask rose oil is known for soothing nerves and reducing stress, and therefore it is a perfect constituent of relaxing baths. Apart from that, rose oil can be used for body massage, yet it has to be combined with a beauty oil first (e.g. avocado, jojoba, argan or almond). Take a spoon of oil and combine it with 5 drops of rose oil. This is how you create a sweet-smelling essence that helps you relax and improve your skin. You can expect it to reduce stretch marks, improve skin suppleness, prevent dehydration and protect skin from damage.
Wild rose oil in skin care
This oil is obtained through cold-press process of wild rose fruit seeds. Owing to this extraction technique, the oil obtained doesn't lose its vitamins and remains a rich source of many precious beautifying properties. For example, wild rose oil contains essential fatty acids, vitamins A and E, karoten, minerals, retinoic acid and lycopene. Thanks to being all-natural, wild rose oil can be safely applied to skin, especially if dehydrated and damaged. Furthermore, rose oil reduces discolorations and small scars, including post-acne marks. Also, this natural oil can be your ally in fighting back signs of ageing – it neutralizes free radicals. Rose oil is known for its skin improving properties since it boosts resilience and reduces fine lines. Finally, rose oil is suitable for normal, mature, couperose and sensitive skin.
Cream rose beauty products
The truth is, every face cream, balm or hair conditioner can be enriched with rose oil or essential rose oil. But of course there are also ready-made beauty products that already contain rose extracts. Before putting one of such products into a basket, check if this precious rose oil is listed at the top of INCI – only then can you be sure that the concentration of the oil is high enough to get you the effects you look forward to achieving. In most cases, these are products destined for mature, ageing, dehydrated and resilience-deprived skin.
However, you can also use the benefits of rose oil if your skin is young because this natural substance is responsible for leaving skin revitalized and nourished. This being said, you can use rose oil as a skin-reviving night serum. When you spread rose oil on eye skin, you can expect it to reduce dark circles, deal with puffiness and leave your skin stronger. Face cream enriched with rose oil is responsible for making skin radiant and healthy. Many people report seeing reduction of minor imperfections and discolorations after exposing their skin to rose oil treatment.
Rose water in skin care
Rose water is one of world's most popular herbal distillates. Have you ever had a chance to check its benefits? Before listing all the positive things about rose water, you should know how this natural cosmetic is produced. In short, rose water is obtained due to distillation process of rose petals, which is how essential rose oil is obtained. Rose water is just a side product, yet it preserves all the properties of the flower it was taken from.
Now, let's look at the benefits. Rose water tonifies and leaves skin fresh. Apart from that, rose water is antiseptic and deals with skin inflammations. When treated with rose water regularly, face becomes more tight, highlighted, its pH levels are balanced and skin tone is evened out.
It's also worth realizing that rose water makes a perfect constituent of homemade beauty products. For example, you can use it with clays, combine with natural oils and aloe gel. Create a rose face mask to expose your skin to royal care thanks to the power of rose essence.