Skin-care discovery! New Aloe & White Tea Face Serum from Nanoil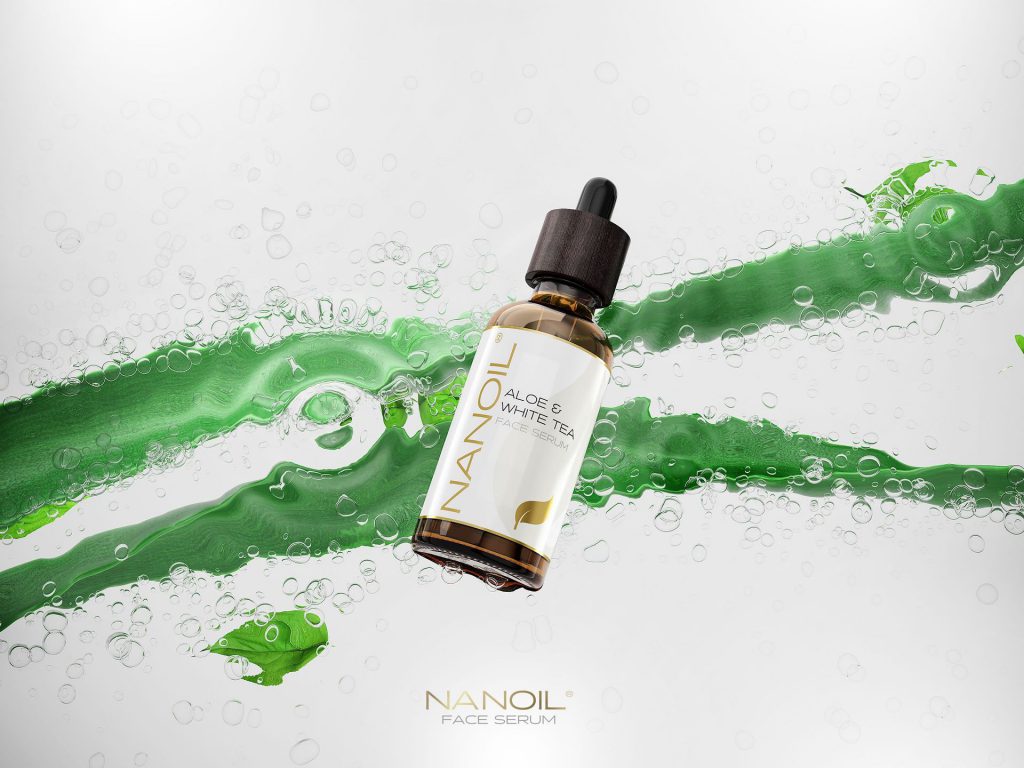 There's a new arrival in beauty salons and our beauty bags – Nanoil Aloe & White Tea Face Serum. This powerful face elixir enhances the natural beauty and is loved by women all over the world. Why don't you join them?
If you think it's hard to fulfil all needs of the skin these days, you are wrong. The Nanoil brand proves that one face serum is all it takes to hydrate and nourish the skin, activate its natural repair potential and shield against the harmful factors such as the sun, pollution or free radicals.
This marvelous remedy for skin problems is named Nanoil Aloe & White Tea Face Serum – a revitalizing serum created for women just like you.
Nanoil Aloe & White Tea Face Serum – get to know it better!
The formula based on two well-matched ingredients is the biggest asset of this serum. Thanks to the components, your skin feels revitalized, lively and perfectly moisturized after just one use.
Aloe vera extract – as a skin-care product it's best known for the moisturizing and soothing effect. Few people know, though, that it's also a rich source of antioxidants, vitamins and minerals that nourish the skin.
White tea extract – a very strong antioxidant which counteracts free radicals and prevents skin aging. Plus it makes the skin plumper, enhances its color and brings out the natural radiance.
The Nanoil Aloe & White Tea Face Serum is made out of just seven ingredients. This simple formula is free from parabens, colorants and aromas to keep your skin healthy.
How does Nanoil Aloe & White Tea Face Serum work?
The benefits flowing from the best ingredients matter the most. How does the Nanoil Aloe & White Tea Face Serum work? This super-fast absorbing serum reaches the deepest layers of the skin and sparks the natural repair process, nourishing, moisturizing and protecting the face from the damaging factors at the same time.
Regular application of Nanoil Aloe & White Tea Face Serum is the easiest way to make the skin flawless because this product:
shields the skin from free radicals.
preserves the health and youth for longer.
brightens, revitalizes, deeply moisturizes.
reduces fine lines making the skin smoother.
prevents premature skin aging.
relaxes, calms the skin.
Nanoil face serum – your best skin-care remedy
This revitalizing face serum isn't the only product made by Nanoil – it's one of the four serums that have been designed to solve the most popular skin problems: dryness, wrinkles, dark spots, dull color, acne. etc.
This is the skin care that you need. You just need to introduce the Nanoil serum to your daily routine to see the difference after just 2-3 weeks. The effects you achieve depend on the serum you pick:
Nanoil Hyaluronic Face Serum: intensively moisturizes.
Nanoil Vit. C Face Serum: brightens pigmentation spots.
Nanoil Retinol Face Serum: has an antiaging effect.
Nanoil Aloe & White Tea Face Serum: revitalizes the skin.
More info on the Nanoil products here:
www.nanoil.co.uk