Soothing multi-repairing balm Cicaplast Baume B5 from La Roche Posay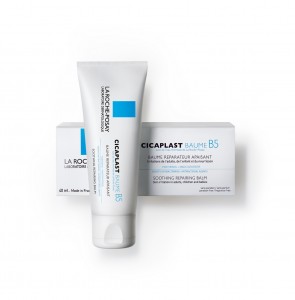 Dry and cool air, UV radiation, dermatological treatments… All of these can cause damage of epidermis, lead to irritations, itchiness, or skin allergies. Is it possible to deal with this problem? Yes, it is! Make your skin regenerated thanks to Cicaplast Baume B5 La Roche – Posay.
La Roche Posay produces dermocosmetics that are aimed at face and body skin care. For skin irritations, dry and cracked skin, for kids and adults – this French brand designed soothing multi-repairing balm Cicaplast Baume B5. The cream moisturizes, softens, and eases damaged epidermis. Right after the application skin becomes smooth, moisturized appropriately, and stays soft to the touch. It is also worth pointing out that the balm has anti-bacterial working.
Cicaplast Baume B5 is able to regenerate skin thanks to the precise selection of ingredients. Protection from bacteria and contaminants as well as facilitation of new skin cells production is provided by copper, zinc, and manganese. Extract of myrtillin takes part in skin cells rebuilding processes. Pantenol, Shea butter, and glycerin ease, moisturize and nourish irritated skin accelerating, at the same time, all wound healing processes. What is crucial, the cream does not include parabens or lanolin which is why it can be applied by people of extremely sensitive skin.
Despite its dense consistency (might resemble silicone) Cicaplast Baume B5 does not leave any oil or sticky layer on face. It does not clog skin pores – it just lets skin breathe freely. Furthermore, the product is absorbed almost immediately. Thanks to this feature, the sensation of 'sticky' face disappears fairly fast. The balm can be used as a compress enhancing the easing working of the product. What is more, the product is able to moisturize damaged face skin after being exposed to laser treatments or exfoliating treatments (acids). Finally, Cicaplast Baume B5 is also perfect as a make-up base.
Soothing multi-repairing balm Cicaplast Baume B5 by La Roche Posay is closed in a white, plastic tube of 40 ml capacity.