BB Cream from Givenchy. Hydra Sparkling Nude Look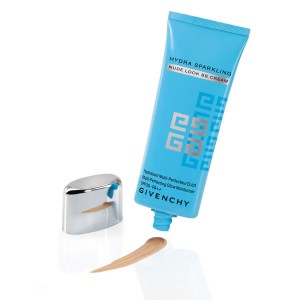 What really are BB creams?
Generally, BB creams are positioned somewhere between colour cosmetics and the nursing ones. If it happened, that you have not heard about these kind of products, now it is high time to check BB creams for yourself. But first, learn some basics about these products. First of all, the abbreviation BB stands for Beauty Balm, so in other words, this means that BB creams focus mainly on beautification. Secondly, these cosmetics combine plenty of properties, like for example, joining the features of a make up foundation and a moisturizing cream. Thirdly, BB creams camouflage face skin imperfections, even up skin tone, matte, highlight and protect complexion from the solar radiation. These beautifying cosmetics do good especially for the young, who are not yet in need of applying heavy cosmetics or high coverage make up foundations. What is more, BB creams are not alone in the cosmetic world realm, since these have a kind of siblings in a form of CC, DD and EE creams.
Hydra Sparkling Nude Look BB Cream from Givenchy
French cosmetic brand – Givenchy, offers its BB Hydra Sparkling Nude Look BB Cream. How does it prove itself? As a product of a make up foundation features works fairly acceptably. Particularly, the cream equalizes skin tone, covers skin imperfections in a form of discolourations, tiny scars, bruises under eyes and broken capillaries. In spite of the fact that BB Hydra Sparkling Nude Look BB Cream is available only in one shade, it matches every possible skin tone, starting with the extremely pale complexions and ending on those considered as intensively dark. Equally important are also the features of care cream which are included into Givenchy's cream. Accordingly, this product works ideally with dry and sensitive skin. Moreover, BB Hydra Sparkling Nude Look BB Cream is of oily and thick formula due to which it moisturizes and provides the constant protection from the damaging factors which contribute to skin water loss. Yet another positive aspect of the BB cream is that it gives face skin delicate, gentle and healthy gleam. The last but not least, the considerable advantage of BB Hydra Sparkling Nude Look BB Cream is the fact that it includes high protection filter, SPF 30 PA ++.