Best Shield for Your Hair Is Finally HERE: Nanoil Heat Protectant Spray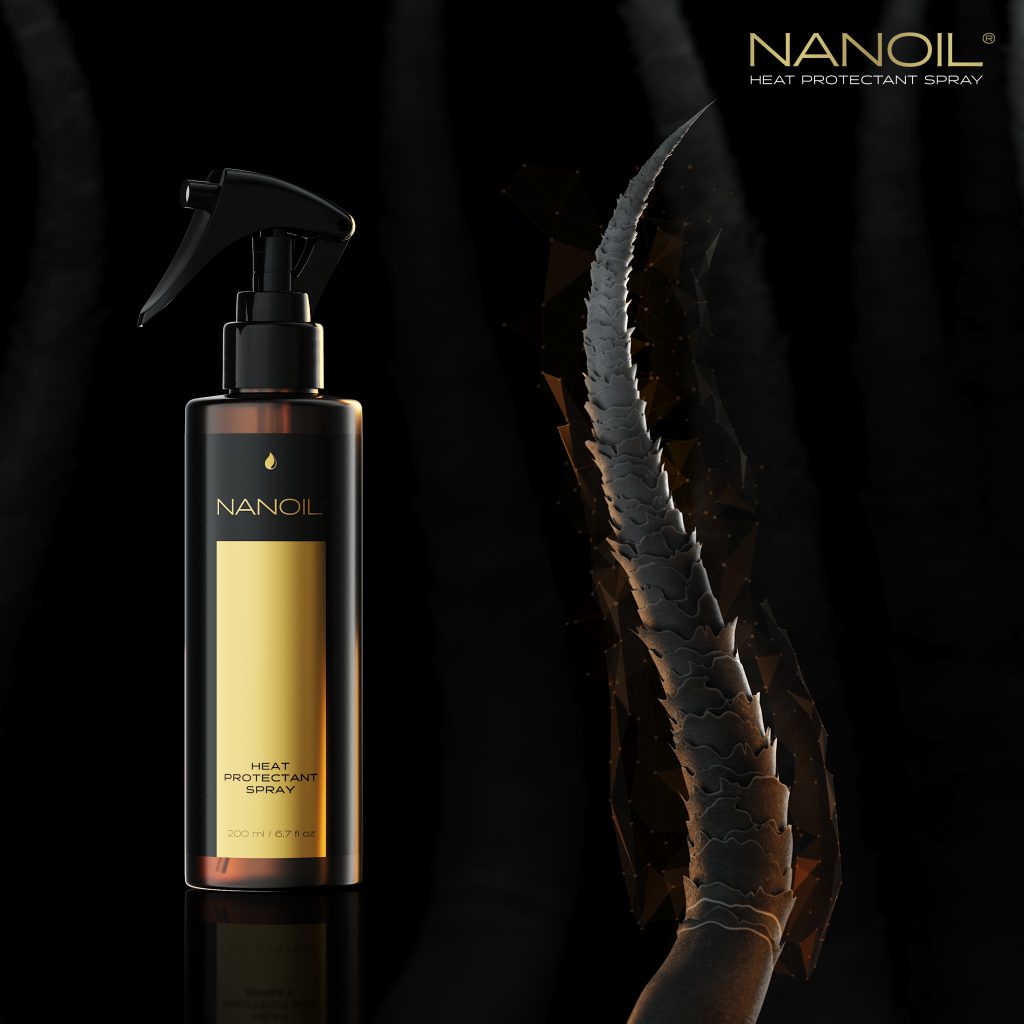 Exposing hair to high temperatures leads to irreversible damage. Hot air generated by hair dryers and other styling tools substantially contributes to dryness, dullness and splitting. Does it mean that you should throw away your flat irons, curling rods and hair dryers?
Absolutely not, provided that you have Nanoil Heat Protectant Spray – a cosmetic that works like a shield, keeping your hair safe even when exposed to 430 degrees Fahrenheit (220 degrees Celsius). It gets even more intriguing after realizing that this Nanoil product is also able to leave you with stronger and better-looking tresses. Interested? Go on reading to learn more about this multi-purpose hair care product.
Protect Your Hair from Heat Damage
Heat has a significant effect on hair, and it's definitely not a positive one. When directed at the strands, it makes the cuticles rise which exposes the hair to damage and gives moisture the opportunity to escape. This in turn leads to brittleness and dullness. Without adequate protection you can't expect your hair to be beautiful, lustrous and strong. In order to avert the danger that comes from heat styling, reach for Nanoil Heat Protectant Spray.
Best heat protection for your hair
Being the newest Nanoil product, Nanoil Heat Protectant Spray has already managed to win top places in various online rankings for the best heat protection products. It's able to form a protective barrier over the strands to keep them from frying. The same barrier traps hydration inside which means that this product maintains moisture and prevents splitting. The formula is enriched with nourishing silk proteins for smoother, shinier and stronger locks. This means that Nanoil Heat Protectant Spray combines qualities of a few hair products, offering you a comprehensive care that saves you time and money.
Pluses of Nanoil Heat Protectant Spray
This thermal spray offers a whole bunch of benefits for all hair types. See what you can get using just one product. Nanoil Heat Protectant Spray:
protects the hair from high temperatures
tames unruly tresses
smooths out and locks water inside the strands
boosts shine and increases hair's elasticity
makes hair pleasant to the touch
combats frizz and static
prevents tangling
lasts long and has a pleasant aroma
has a lightweight formula
It's easy to see how beneficial Nanoil Heat Protectant Spray is for hair, especially if you use a hair dryer, flat iron or curling rod to arrange stunning hairdos. You don't have to resign from looking your best – just don't forget to spritz your locks with Nanoil thermal spray. No matter if your hair is thick or fine, short or long, colored or bleached – Nanoil Heat Protectant Spray will prevent it from getting weak, brittle and dehydrated.
Where can I buy Nanoil Heat Protectant Spray?
All Nanoil beauty products are available on nanoil.co.uk. Do the shopping without leaving home. The good news is that you can pick from micellar shampoos, hair masks, leave-in conditioners and plant oils, and create your own customized beauty routine for gorgeously-looking hair.