HOT Topic! Make-up trends for Winter season 2019/2020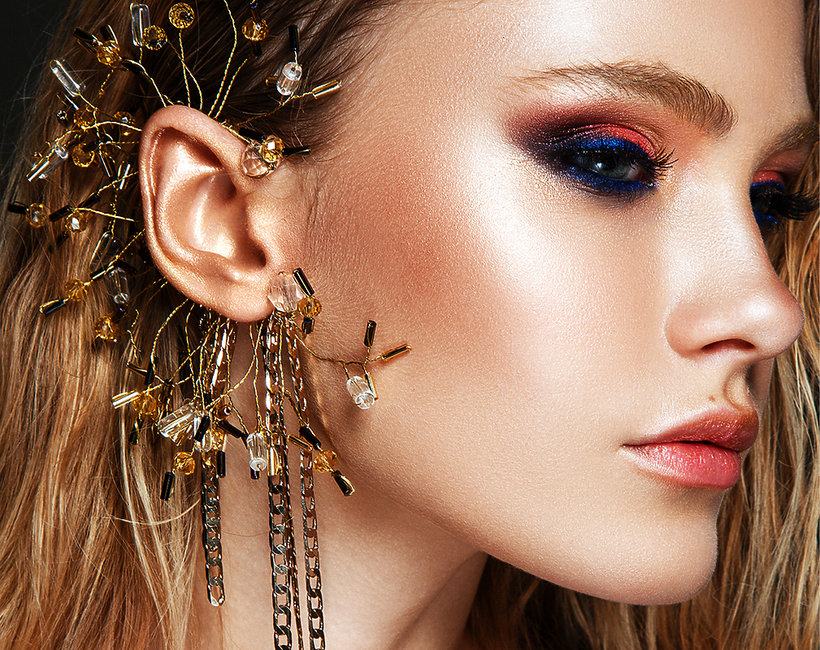 Winter season is a time when… we have more time. We stay home and dive under the blanket with hot tea in one hand and a good book in the other. However, when we finally emerge from our households, we meet up with friends, visit restaurants and other venues so we can be bold with the make-up. On long evenings you can pay it extra attention, do the dry run, experiment with the color and see the final effect. Even so, considering the winter happens to surprise us with some new trends.
Make-up trends for the winter 2019/2020
1. Make-up trends 2019/2020: blushed cheeks
It is a trend that not only looks lovely but also incredibly rejuvenates! Blusher is a gentle and subtle way to ensure girly charm and winter is the perfect time to experiment so if you have not happened to use blusher before, this is the time! The frosty season is about the berry shades – a bit cold in tone or broke with some gold shade to match every complexion. At first, it may seem intense in color but when applied correctly provides the most beautiful effect.
2. Make-up trends 2019/2020: intense color for the lips
Expressive lipstick color is perfect for the carnival. Deep color on the lips is a fast way to make a stunning impression, so go for light eye make-up or even apply just the mascara, no eyeshadow. The combination of such eye make-up with eccentric lips color is a 100% wow effect guaranteed. Choose mattifying lipstick and if you do not have such just gently apply the translucent powder onto 'regular' lipstick.
Remember that with intense colors you need to be very thorough with the application and with the outline.
Obviously, the queen of the carnival is vivid red!
The key to unlocking current trends is in high-pigmentation, so welcomed are lively colors in shades of carmine and deep burgundy.
3. Make-up trends 2019/2020: 90s disco style
Something beautiful and definitely infused with a good mood in the winter when the weather outside is not too optimistic is the fact that in this carnival season 90s disco rhythms will dominate. Full of deep colors and bold ideas make-up is the definition of disco theme. The true hit is colorful eyeshadow with deep pigmentation for the technicolor effect and rainbow eye make-up.
4. Make-up trends 2019/2020: intense colors
Frida Khalo would be delighted knowing that it's yet another season for thick, bushy eyebrows! This is another year that belongs to them. If nature blessed you with naturally thick eyebrows, just some eyebrow gel is enough, but the rest of us have to handle it differently, for example, by growing them with good eyebrow serum.
The make-up will definitely need some pomade or brow tint that is why you will need the 'brow queen', i.e. Anastasia Beverly Hills cosmetics. The pomades and pencils by her are like none other.
On the other hand, brow tint will allow you to add separate hairs. Angled brush of good quality is able to make your brow make-up perfect by allowing you to draw lines that imitate hairs. What's more, thick and bushy brows make you look younger so get to it!
5. Make-up trends 2019/2020: bring on the glow, i.e. frosted skin
Who doesn't love highlighted skin? The effect of healthy, smooth and radiant skin is a trend that dominates for a few seasons now. This winter is no different so if you no longer have a highlighter in your cosmetic bag, run to the store! For the total bliss, you need only a good brush, for example, a fan brush. However, if you are not skilled in the use of brush, you can always use a highlighter in the form of gel, cream, stick or drops. Just apply it with your fingertips and tap in at the top of the cheekbones, in the chin, on the forehead and nose. You can also use some of it on the inner eye corners to make your look fresher.
The highlighter is able to help you gain intense dewy skin effect, i.e. moisturized, smooth and radiant skin.