How to use Coconut oil? The best skin, face and hair treatments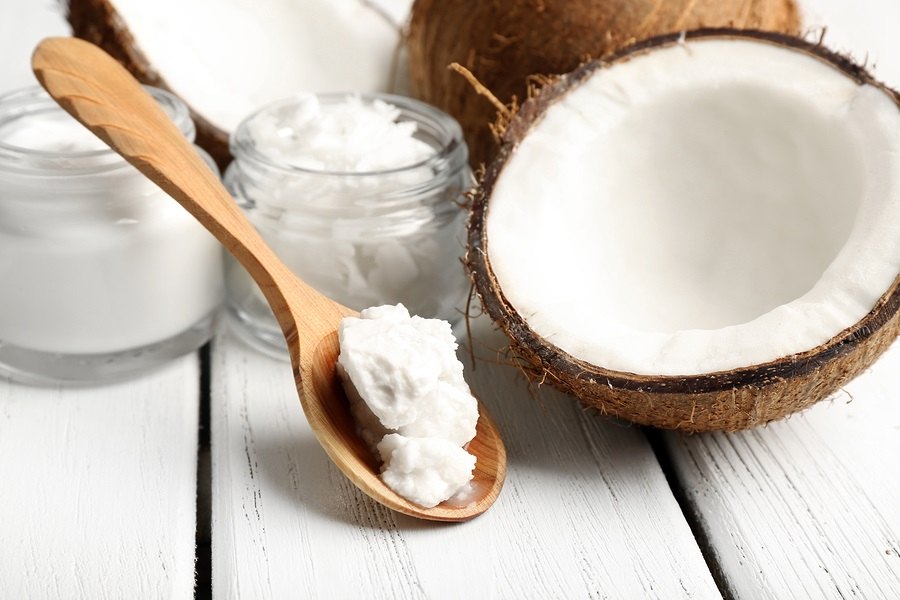 Ok, so we already know that for beauty purposes, the best oil will be the unrefined, organic Coconut oil. It is unbeatable because only such – unpurified – product contains what's needed to maintain good looks. As one of the numerous advantages of this oil we can enumerate the number of minerals and vitamins, and a high concentration of lauric acid it contains.
Due to the content of vitamins E, B, C, minerals (iron, calcium, phosphorus, magnesium, sodium, potassium, zinc) Coconut oil is considered one of the greatest beautifying treatments. How to use it to make the best of it? Here is a list of the best Coconut oil uses:
COCONUT OIL FOR HAIR
It is best to use it in the form of a mask and apply to the scalp and the whole hair length. Before the application, Coconut oil needs to be warmed up to change from its solid state into liquid. This makes the use a lot easier. What's more, Coconut oil is most suitable for low porosity hair: thick and heavy, also coarse and stiff, lacking volume.
Since Coconut oil contains a high concentration of lauric acid (with antiseptic and antibacterial properties) it is ideal as a base or a macerate for other oils, plants and herbs – also those for medium and high porosity hair. It increases the durability of a given mix and makes the cosmetic stay fresh longer.
Coconut oil in its pure form can increase frizz in any type of hair other than low porous. However, women whose hair is thick, heavy, lacks volume and (often) accompanied by excessive seborrhea of the scalp, they will certainly like the Coconut oil mask:
simply rub a tablespoon of oil into the scalp and the strands (the hair can be either dry or wet – keep in mind that wet hair absorbs nutrients better due to lifted scales). Coconut oil is to be left in the hair for a minimum of 15 minutes (many women prefer to extend this period to a few hours), and then wash it out with a gentle shampoo.
COCONUT OIL FOR THE BODY 
Coconut oil is a great remedy for all skin related problems. It will bring relief to irritations, reduce the visibility of scars and stretch marks, it provides antiseptic effect and prevents bacteria from multiplying. What's more, Coconut oil moisturises the skin thoroughly and protects while exposing the skin to the sun radiation (excessively), which is why it is so often used by athletes, teenagers, pregnant women and all people struggling with the problem of excessively dry skin prone to irritation.
Moreover, Coconut oil is ideal for massages because it brings relief to tired muscles. It is best to use it in the form of a lotion, applying it to the still-wet skin after bathing or showering- the body has increased absorbency and absorbs coconut oil well.
Furthermore, it is worth remembering that Coconut oil has sanitizing properties and prevents bacteria from spreading – for this reason, many women replace their hand creams with Coconut oil (will then act as a delicate and natural antibacterial gel, and at the same time it will not dry out your hands). Antiseptic and bactericidal properties of Coconut oil will be also beneficial for our feet – it is enough to apply a large amount of it before going to sleep and secure your feet with cotton socks. Coconut oil in the form of a foot compress is an excellent cure for dehydrated feet – it is worth using it especially in winter when the feet lack not only hydration but also nutrition. Coconut oil will also act as an aromatherapy: its exotic fragrance will take us to the hot tropical climate in the middle of winter.
COCONUT OIL FOR THE FACE 
In this field, Coconut oil is also unbeatable: it can be used as a makeup remover; it can be applied before bedtime in the form of a serum (Coconut oil works perfectly as a face cream), or pat in delicate skin under the eyes – Coconut oil as an under-eye cream will have a rejuvenating effect and will increase the elasticity of the delicate skin in these parts of the face.
Makeup removal with the aid of Coconut oil is very easy (simply moisten the face with water and then rub the warmed up oil into it). To remove the oil, you can use a special cotton or muslin cloth available in almost every drugstore. This method of makeup removal is called OCM, or Oil Cleansing Method, while Coconut oil is one of the most popular oil used for the face: it is often combined with Castor oil or Jojoba, which additionally regulates the level of sebum secretion on the skin.