Is semi-permanent eyebrow make-up OK? Advantages and disadvantages of this treatment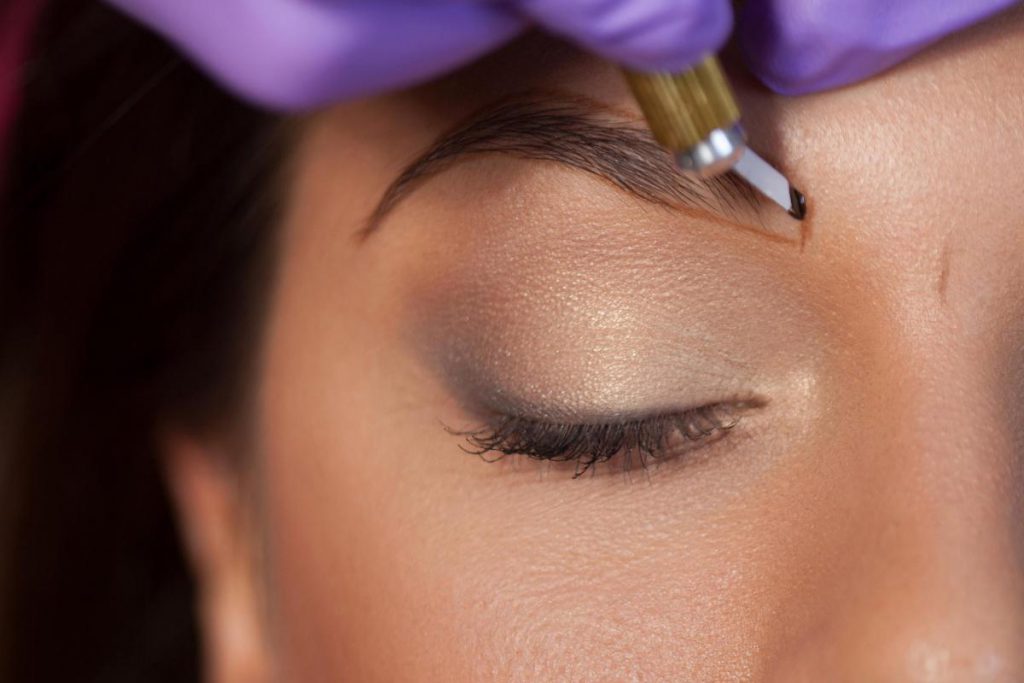 Many women are dissatisfied with how their eyebrows look. This is why they decide to undergo a permanent cosmetics application. Is it a good idea? Before making the decision, it's good to find out the advantages and disadvantages of the treatment.
Correctly done, permanent make-up is a great way to emphasize the beauty and hide small defects. However, there are also many people who would never decide to try.
Find out what the advantages and disadvantages are and then decide if this is the right solution for yourself.
What is permanent make-up about?
At the very beginning, it's good to establish what permanent make-up actually is. The main difference is that it's extremely durable in comparison to ordinary make-up.
I fact, this is a form of tattooing, it involves putting a dye under the skin that is resistant to any type of make-up removal.
Of course, there are different techniques of permanent makeup, especially when it comes to eyebrows. Among them the most popular are:
microblading, i.e. permanent make-up of the eyebrows with the feather method,
microshadowing,
ombre (variation of the microshadowing method).
The advantages of permanent eyebrow make-up:
1. IT ALWAYS LOOKS GOOD
It does not matter if we just got out of bed or if we came back from an all-night party. Regardless of the time, day, season. Eyebrows after the treatment always look good. Their shape never changes, the colour is always very intense. No corrections needed.
2. IT IS EXTREMELY DURABLE
The most frequently mentioned advantage of permanent make-up is its durability. Correctly made, it lasts up to two years. Over time, it may fade a bit, but regardless of it, we gain months without worrying about the appearance of the eyebrows.
3. IT SAVES TIME
While it takes some time to get permanent eyebrows, in return we gain a perfectly highlighted eyebrows, which we do not have to improve in any way. Every day we save time formerly intended for precise eyebrow make-up.
4. IT BEAUTIFIES AND MASKS IMPERFECTIONS
The main purpose of permanent eyebrow make-up is to hide imperfections. Too thin and light eyebrows, visible hair loss – this can be covered with make-up. Generally, nicely shaped eyebrows considerably add beauty to our face. Not many people know that the shape of our eyebrows can slim down our face or soften its features.
The disadvantages of permanent eyebrow make-up:
1. IT IS VERY EXPENSIVE
The cost of permanent eyebrow make-up in a professional salon is very high. This is often a price 15 times higher than for henna. For this reason not everyone can afford it. A positive aspect is that permanent eyebrow make-up is often done for free for the women after chemotherapy – it's a very nice gesture of some beauty salons.
2. THE EFFECTS ARE NOT IMMEDIATE
During the first few days after the treatment we can hardly recognize ourselves in the mirror. The eyebrows will be too dark, the skin will be red and swollen. All of these symptoms disappear only a few days after.
3. THE EFFECT IS NOT ALWAYS SATISFACTORY
Permanent make-up should be done by an experienced beautician to avoid exaggerated make-up. Otherwise, the effect might be too dark or sharp eyebrows.
4. PERMANENT EFFECT
Permanent eyebrow make-up is a very permanent solution. On the one hand, this is an advantage, but on the other hand, we do not have any easy option of changing the shape of eyebrows or removing such make-up. You can do it only with the help of laser, although sometimes it is difficult to get rid of the dark dye with it.
5. MORE THAN ONE TREATMENTS ARE NEEDED
Making a permanent make-up requires, unfortunately, several visits at the beauty salon. The first and the longest one is needed to determine the shape of the eyebrows and make a full make-up. You still have to come to the lingerist at least once (sometimes more) to enhance the colour of your permanent make-up.
6. A LONG LIST OF CONTRAINDICATIONS
Pregnant women, diabetics, people with psoriasis or pain hypersensitivity cannot undergo a permanent cosmetics application. Other contradictions include cold sore, skin infections, cancers or taking antithrombotic or steroids.